NEW RELEASE - Edit your Figma & Adobe XD designs as WordPress Gutenberg blocks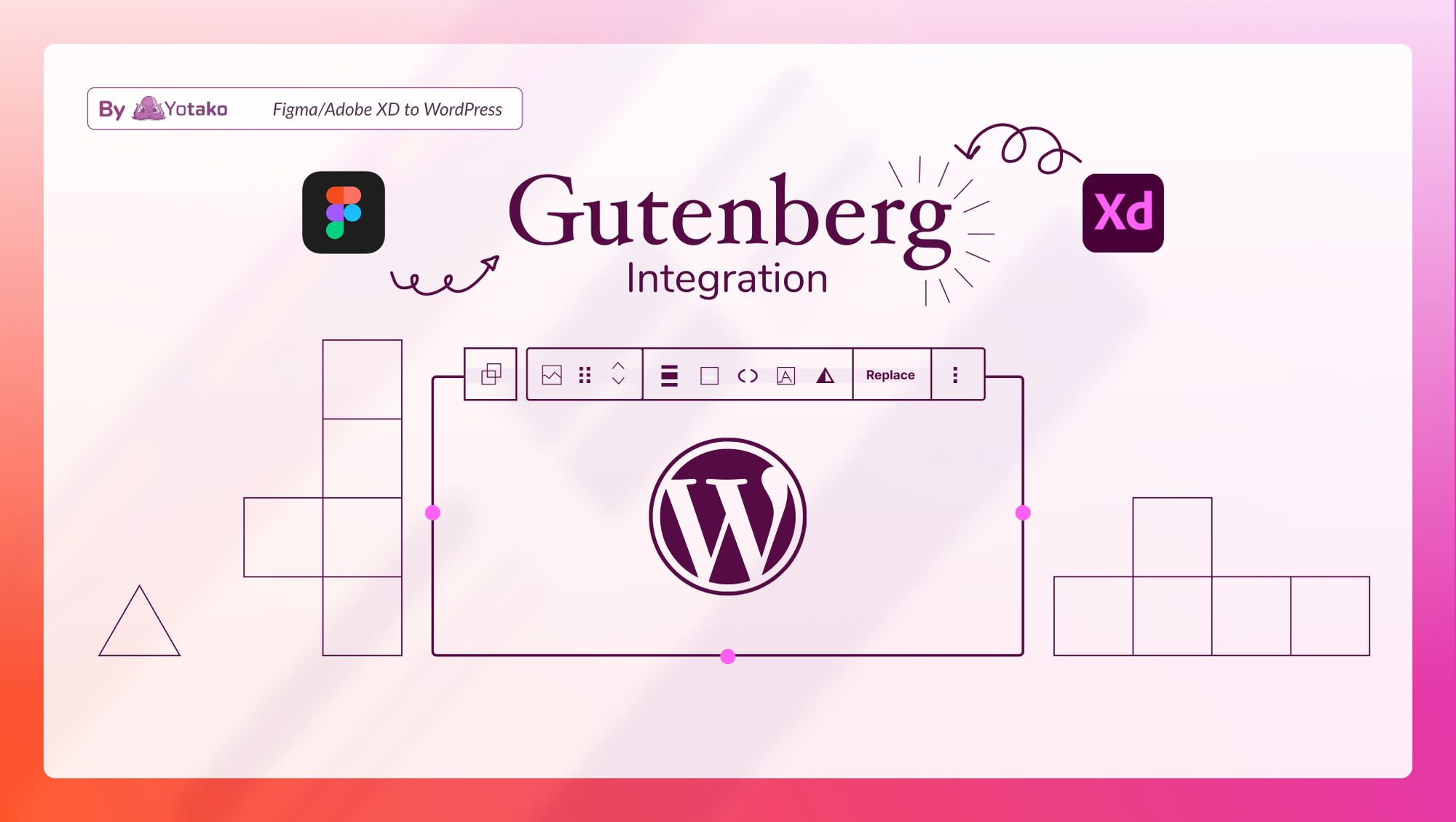 Introduction
In the world of web design, the integration of powerful tools can revolutionize the way designers bring their visions to life and shift the paradigm of the way websites are made. At Yotako our design-to-life AI technology (better known through our plugins Figma to WordPress and WordPress for Adobe XD), has finally native support for WordPress Gutenberg!
Yotako plugins empowers designers to convert their Figma or Adobe XD designs into fully functional WordPress websites and WordPress themes in a few clicks. With this new release, you will be able to adjust your website content easily and customize any aspect of your WordPress wesbsites and themes thanks to the powerful editing capabilities of Gutenberg, the full site editor for WordPress, by WordPress.
Let's explore the remarkable freedom and flexibility this integration offers designers.
Converting Designs into Functional Websites
Yotako's plugins, Figma for WordPress and WordPress for Adobe XD, enable designers to seamlessly transform their web designs into functional WordPress websites with just a few clicks. By a design-to-website conversion from Figma or Adobe XD, designers can maintain the visual fidelity of their original designs while easily adapting them to the WordPress platform with Gutenberg integration. This streamlined conversion process eliminates the need for manual coding or even hiring developers, saving designers valuable time, money and effort.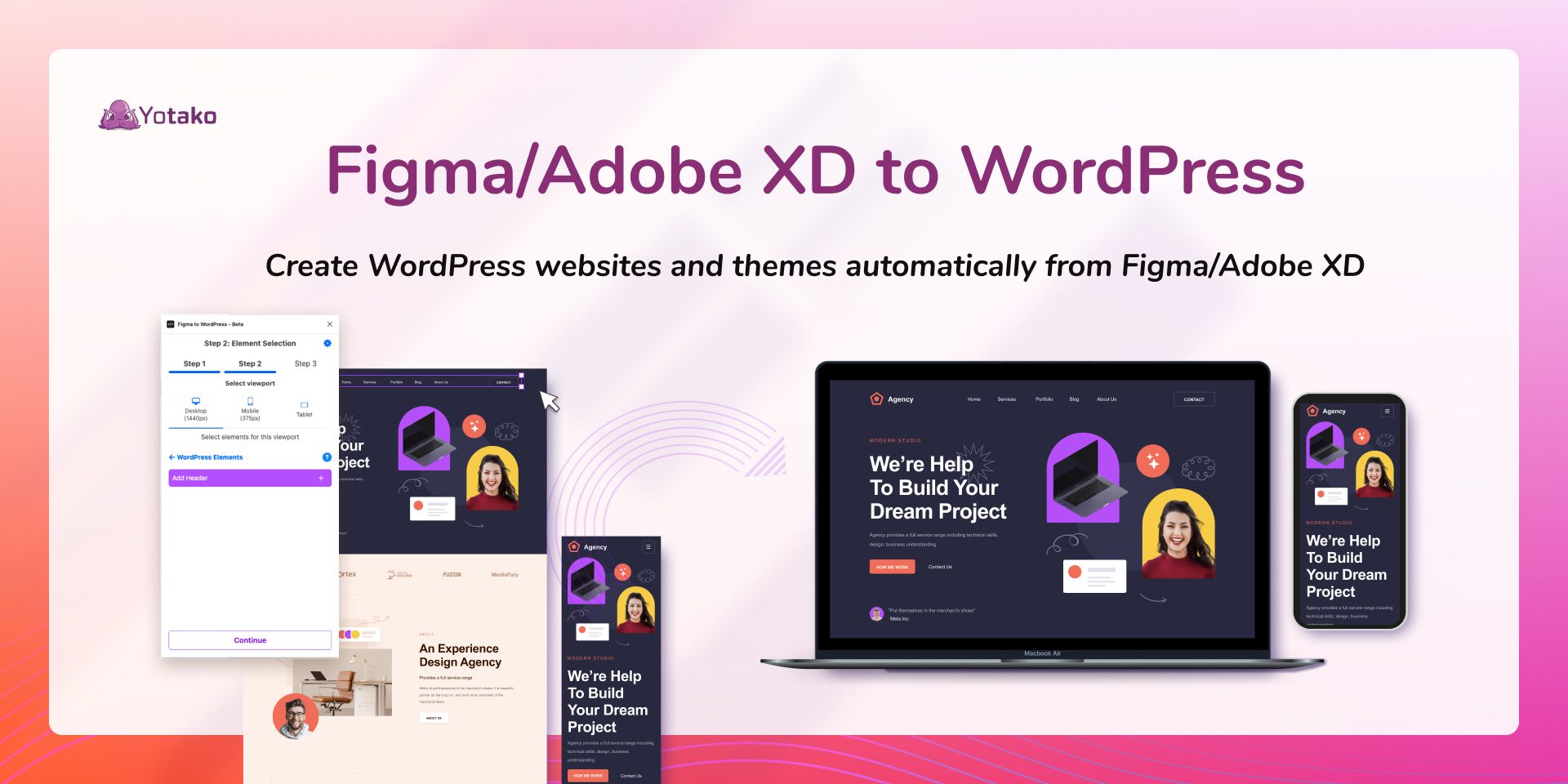 Editing Figma/Adobe XD designs as Gutenberg blocks inside WordPress
Update your content on the fly, replace or modify images at runtime, format text... Gutenberg provides the tools you need for any in-place adjustments of your websites and themes.
Let's see some examples using the famous Playground File for Figma.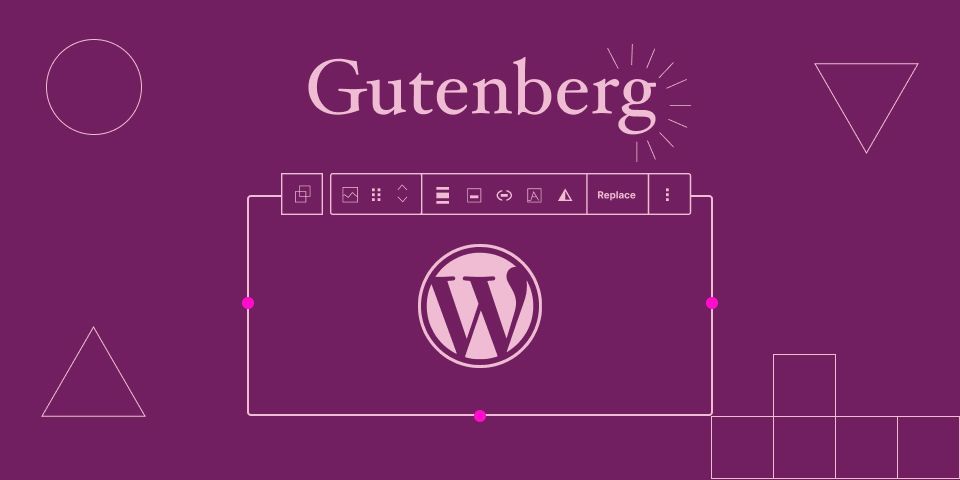 Easier content update & text formatting
Update the content on the fly whenever you want. Explore a rich set of text formatting options to create visually appealing and well-structured content. Gutenberg allows you to apply different font styles, sizes, and colors to formatting text as headings or paragraphs. Advanced options such as custom letter spacing, line height adjustments, and text alignment further contribute to the overall visual impact of your websites and themes.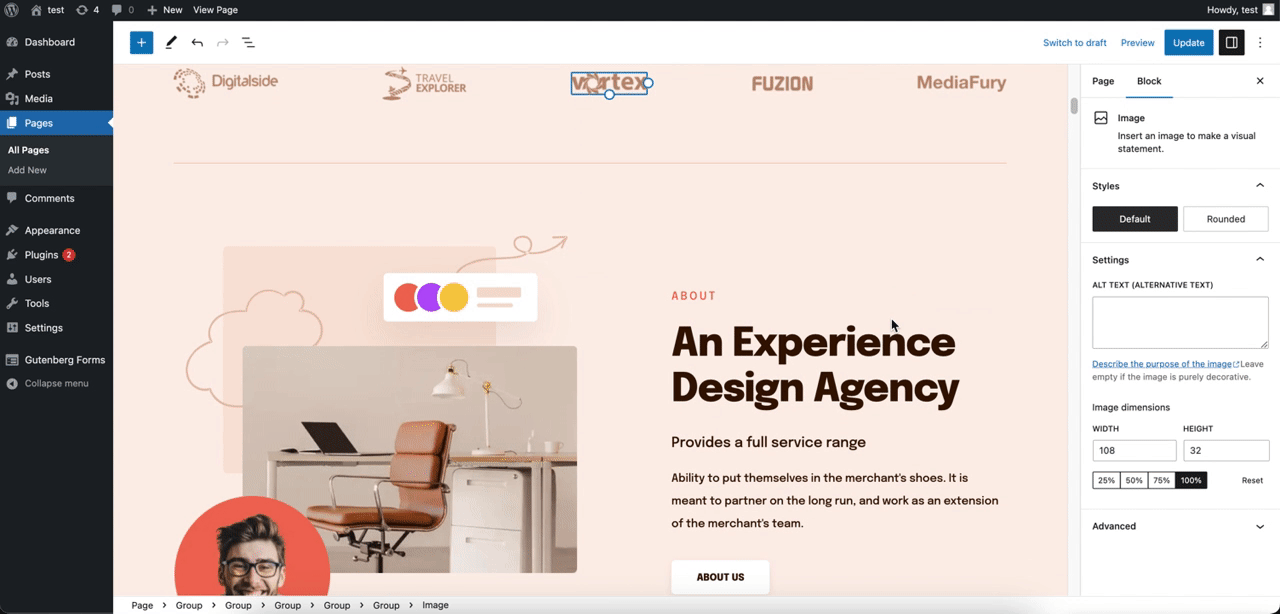 Easy image editing
Gutenberg's image editing options allow you to enhance and optimize images directly within the editor. From resizing and cropping to adjusting brightness, contrast, and saturation, you have full control over the visual presentation of images on your websites and themes created with any of the Yotako plugins. Any in-place last touches are now possible and faster than ever. The ability to add overlays or text overlays increase the customization options, ensuring that images seamlessly integrate with the overall design aesthetic.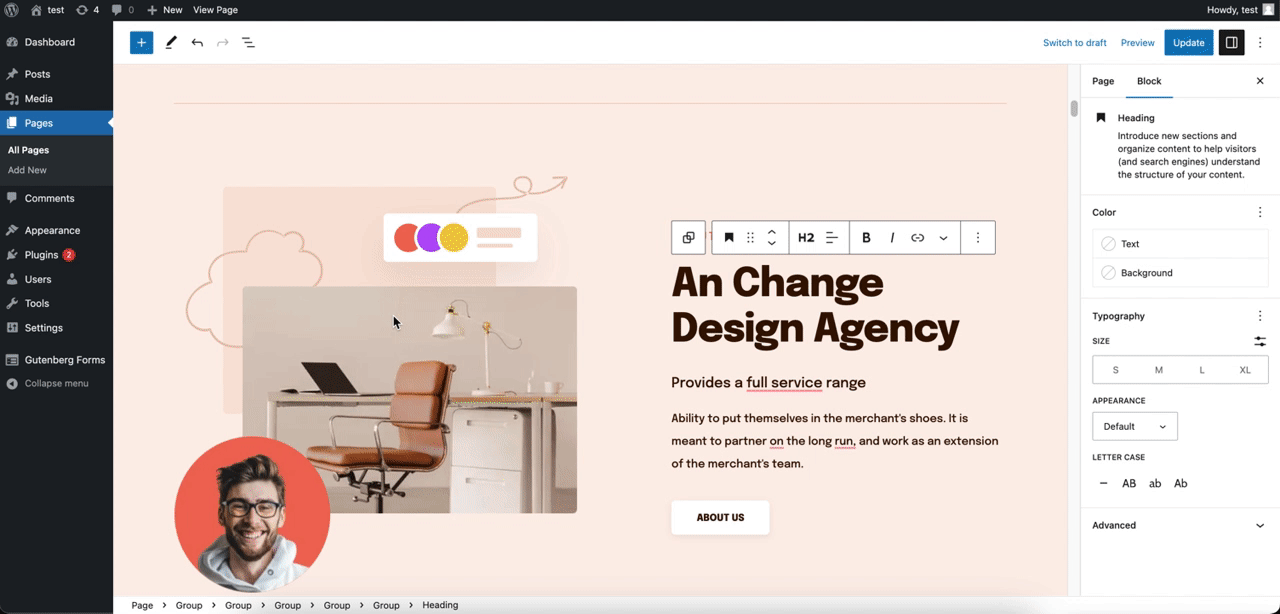 Modifying Layouts
Gutenberg's block-based layout system empowers designers to customize the structure and arrangement of content on web pages. If your content change for whatever reason (customers change their mind, content you want to update/remove, etc.) you can easily add or remove blocks, adjust their widths, and arrange them in various configurations to create unique and visually appealing layouts. This flexibility allows you to adjust the layout with your design vision and create engaging user experiences.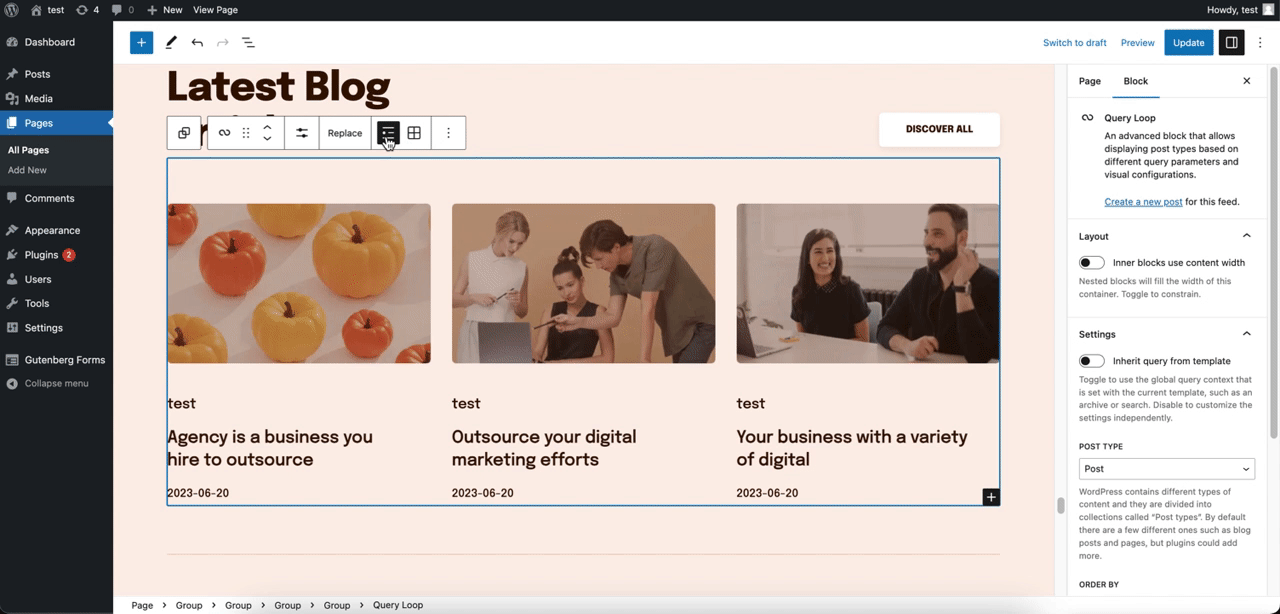 💡
START YOUR DESIGN TO WORDPRESS JOURNEY NOW - Choose your plugin below:
Adjust your forms, text inputs and more
Gutenberg simplifies the process of creating functional and visually consistent forms within WordPress. Designers can add form fields such as text inputs, checkboxes, radio buttons, and dropdown menus using dedicated form block plugins. Customizing form layout, styling, and validation messages ensures seamless integration with the website's design aesthetic. With Gutenberg, you can create forms that are both functional and visually appealing, without relying on external form builders.
Integrating Media
Gutenberg makes it effortless to embed media content from various sources, such as YouTube videos, tweets, Instagram posts, or Google Maps, into websites. You can control the size, alignment, and style of the embedded media, ensuring a visually pleasing integration within the overall design. This feature enhances user engagement by creating more immersive experiences.

Real-Time Editing and Quick Iterations
With Gutenberg's live preview feature, you can see any changes in real-time as you edit content. This immediate feedback allows you to iterate quickly, experiment with different design options, and fine-tune the visual presentation without the need for constant switching between design tools and the website backend. Real-time editing streamlines the design workflow helping to work more efficiently.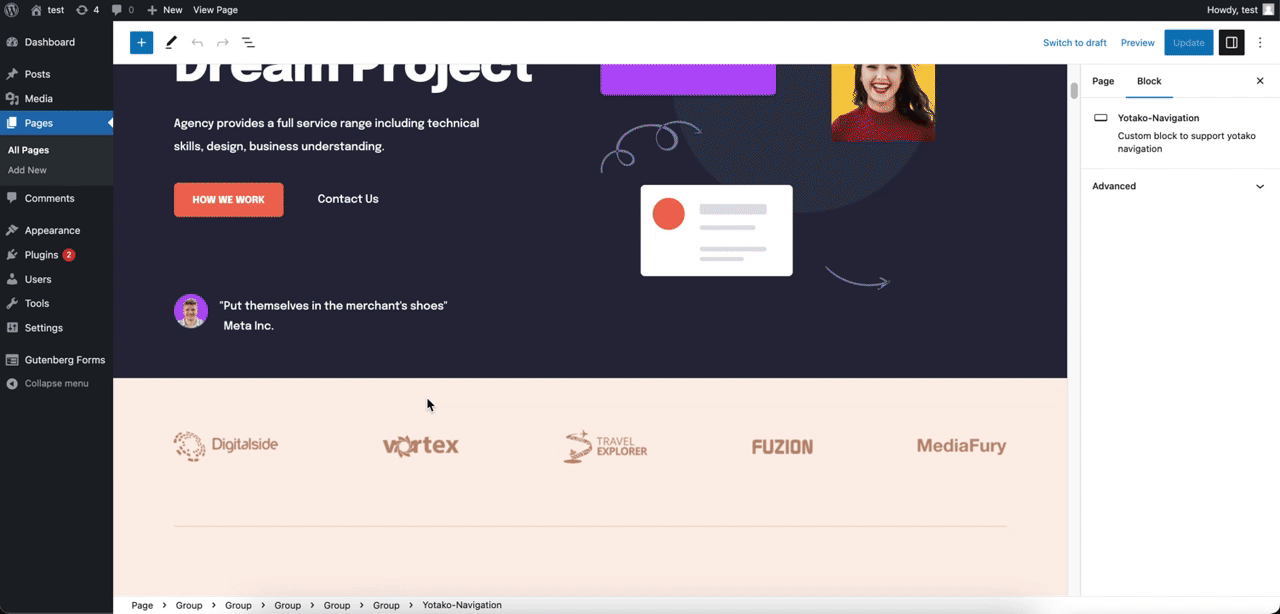 Conclusion
These are just a few features. The integration of Gutenberg with the Yotako technology, offers web designers a new level of creative freedom and flexibility. As a web-designer, you can easily convert your designs into functional WordPress websites and themes with our Yotako plugins Figma to WordPress and WordPress for Adobe XD, edit and customize their content or even aspect within WordPress using Gutenberg's extensive features, and unleash your creativity without limitations. This integration empowers our customers to bring their design visions to life and create visually stunning and engaging websites with ease. With Yotako & Gutenberg, the possibilities for web design are truly limitless.
💡
START YOUR DESIGN TO WORDPRESS JOURNEY NOW - Choose your plugin below: