Yotako at the "UPM Virtual Employment Fair"!
Yotako busca talento en la Feria Virtual de Empleo de la Universidad Politécnica de Madrid.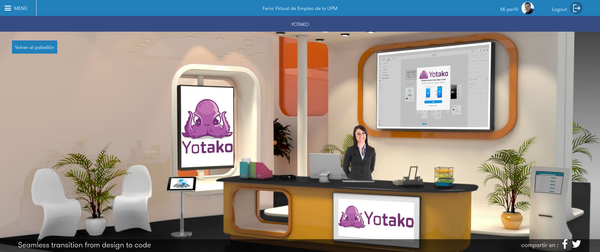 Come work with us!
This week, from April 21 to 23, the "Polytechnic University of Madrid" is organizing the Virtual Employment days and it is happening here:
https://feriavirtualupm.easyvirtualfair.com
Come to chat with us at our booth for more information about our open positions!
Looking forward to hearing from you!
---
ABOUT YOTAKO
At Yotako we entirely re-imagine the way people create websites and mobile apps and, in general, user interfaces of any kind. We collaborate with the main design tools and companies in the world (e.g. Adobe).
We are an equal opportunity company.
We are committed to building exceptional employee experiences.
We are a young and dynamic startup.
We work in a multicultural context, we all are from different countries and we all have different backgrounds.
We are very flexible and provide good working conditions.
We are passionate about what we do and we genuinely care about each of us.
We are looking for exceptional talent from all over the world who are ready to make an impact!
Join us to reimagine what the future will look like!
OUR VALUES
Users come first
Make something people love
Work smarter not harder
We are a team
Always be learning